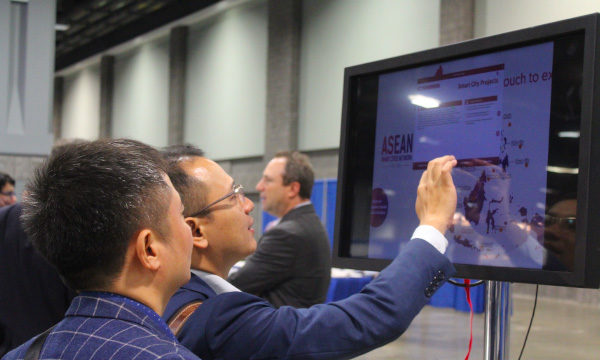 On July 11-12, 2019, ASCN representatives attended the Global City Teams Challenge Smart and Secure Cities and Communities Challenge (GCTC/SC3) Expo, which featured U.S. mayors and other smart city innovators in keynote addresses and topic-specific parallel sessions.
On July 11, ASCN representatives engaged with a panel of like-minded partners from Japan (Mitsuhiro Hishida, Ministry of Internal Affairs and Communications), South Korea (Dr. Bum Hyun Lee, Korea Research Institute for Human Settlements), Australia (Nicole Forrester, Commonwealth Scientific and Industrial Research), and the Uraia network (Diana A. Lopez Caramazana, Local government and Decentralisation Unit, Kenya, UN-HABITAT). The panel was moderated by Chris Greer of NIST. At an afternoon meet and greet at the USASCP booth on the Expo floor, they had conversations with other Expo participants.
On both days, ASCN delegates saw new technologies, such as autonomous vehicles, on the Expo floor, and met in one-on-one appointments with USASCP program directors at the State Department, Commerce Department, Transportation Department and National Science Foundation to discuss possible in-depth city engagements in the coming years.
July 12 concluded with a feedback session and IVLP on Demand orientation. The group then split in half for an IVLP on Demand program with half the delegates visiting New York City and the other half Seattle.
For further information please reach out to Associate Director of Cyber-Physical Systems Program Sokwoo Rhee or Director of the Smart Grid and Cyber-Physical Systems Program Office Chris Greer.