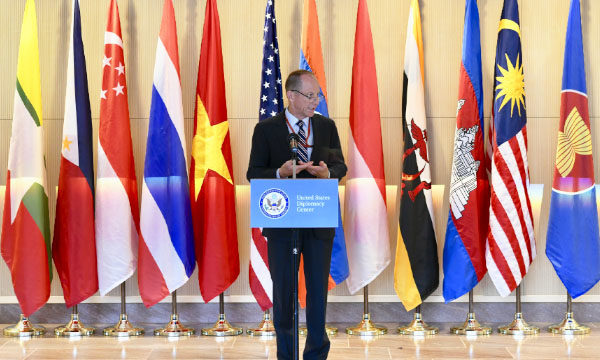 The U.S.-ASEAN Smart City Partnership (USASCP) kicked off July 9, 2019, with a welcome at the State Department for 30 representatives from the pilot cities of the ASEAN Smart City Network (ASCN). Assistant Secretary of State David Stillwell gave opening remarks, followed by Joy Sinay of the ASEAN Secretariat and Dr. Passakon Prathombutr from Thailand's Digital Economy Promotion Agency.
The group then attended an industry roundtable at the U.S. Chamber of Commerce where a some of the representatives described the ASCN and work in their cities, and where the group heard about how industry-led activities could support smart city work in the ASEAN region.
Arizona State University then hosted the group to demonstrate its Decision Theater for visualizing complex problems with multiple interacting variables. The day ended with a walking tour of Pennsylvania Avenue 2040, a Washington DC pilot with sensor-based LED streetlights, outdoor wi-fi and sensors.
On July 10, the representatives participated in an all-day symposium program put together by the International Trade Administration. This day featured panels discussing topics that included case studies, financing options, best practices, technologies and cybersecurity with representatives from U.S. companies making smart city products, U.S. cities and universities and the U.S. government. The symposium ended with a review of the upcoming USASCP programming. Representatives closed the day by attending a reception hosted by the Royal Thai Embassy.
For further information please reach out to Jefferson Science Fellow Dr. Elisabeth Smela.